10 Best Places to Visit in Mykonos Greece
10 Best Places to Visit in Mykonos Greece
Today tours to Mykonos are very popular among young people, as for them there is everything you need for recreation and entertainment and day and night.
Mykonos is one of the most prestigious resorts in Greece. The island of Mykonos is washed by the Aegean Sea. If you decide to go on vacation to Mykonos, you will be able to visit the fun hangouts and get a lot of entertainment. Here life is always bustling with bright colors. Today tours to Mykonos are very popular among young people, as for them there is everything you need for recreation and entertainment and day and night.
The island is also great for family vacations. Here you can not only have fun but also get away from nature, have a picnic in the fresh air and sit near the sea. The hotel also has all kinds of entertainment for both adults and children.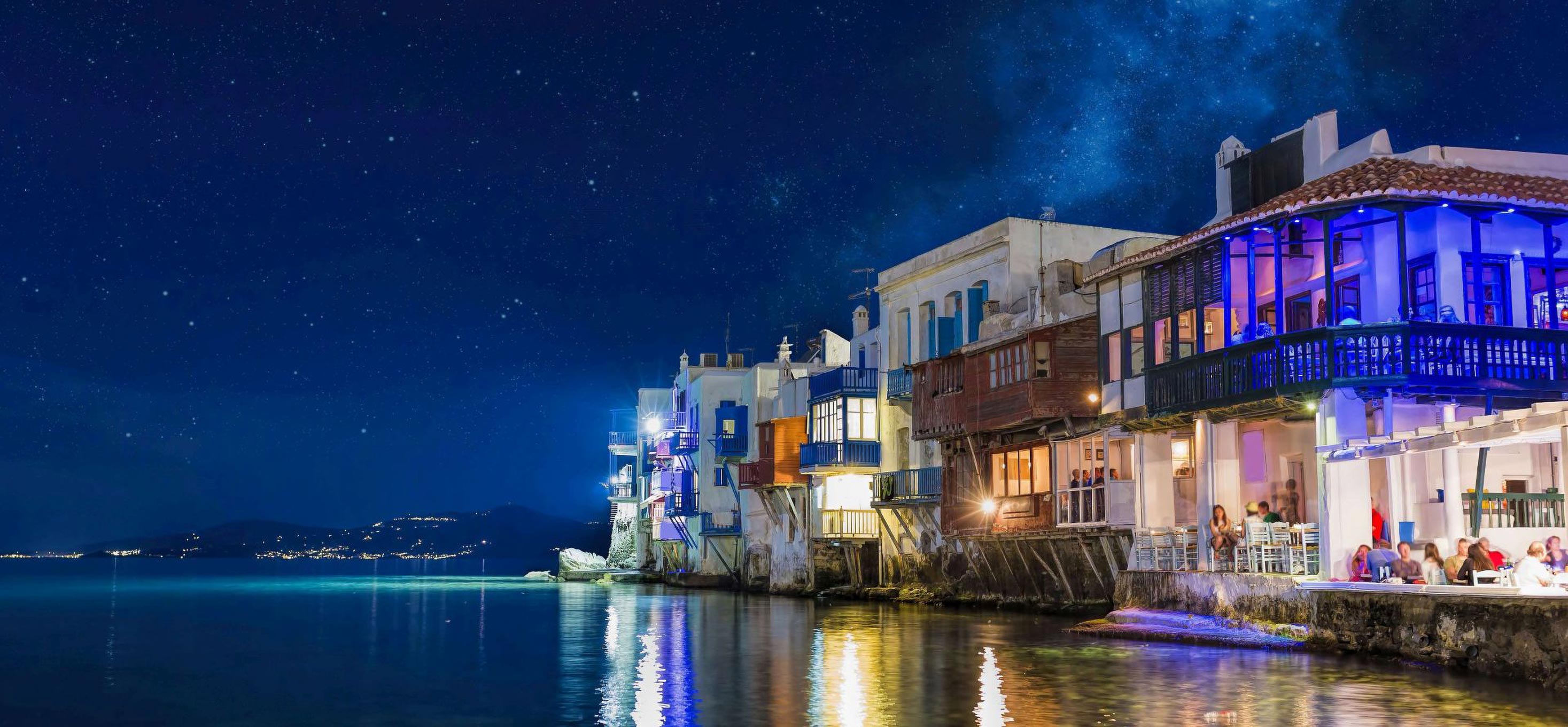 Recommended to read: TOP 10 amazing places to visit in Egypt
The main feature and attraction of this Greek island, of course, are the beaches. In Mykonos, the beaches can differ dramatically from each other. There are wild ones for surfers and ultra-modern ones, equipped with the latest fashion, where you can call a waiter at the push of a button on a sun lounger.
When to go on vacation to Mykonos in Greece?
The best time to vacation in Mykonos is from July to September. During this period, the island has sunny weather with almost no rain. The air temperature is 25 ° to 30 ° C, the water warms up to 25 ° C.
During the velvet season and in May-June the temperature is a little lower, but still comfortable for tourists. If the tourist does not like the heat, then going at this time will be a good option. We also suggest reading: Cairo: Historical, ancient, and the largest city in the Arab world. 11 Things To Do in Cairo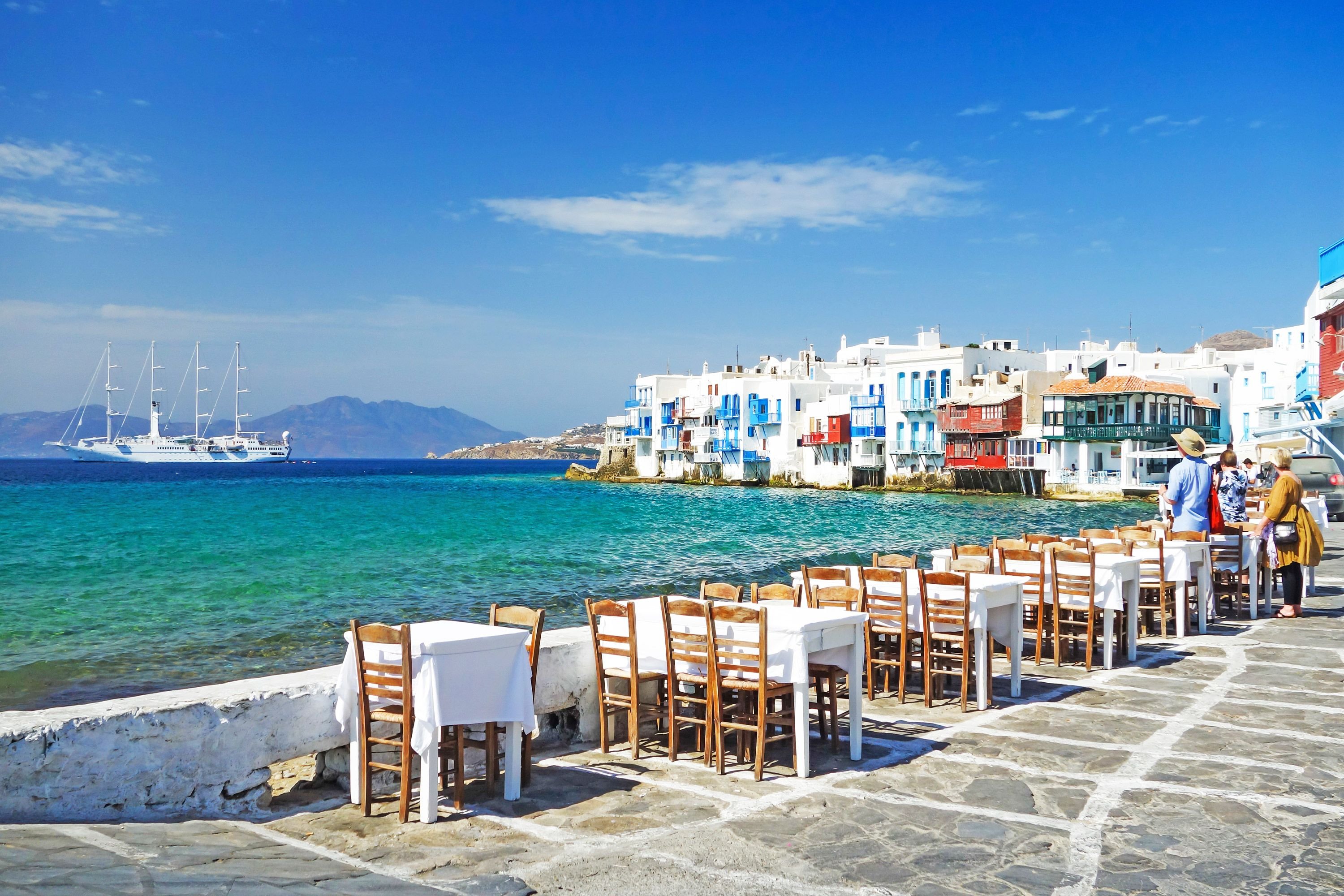 1. Little Venice Mykonos Quarter
Little Venice Mykonos is one of the best places to visit in Mykonos, Greece. Constructed during the 16th and 17th centuries by sea merchants, Little Venice Quarter is situated on the western edge of Chora near Alexandra Beach. Ideal hangouts for artists who have recreated the scene in countless paintings, its charming houses, cafes, and restaurants that sit elegantly perched on the water's edge are sure to take your breath away.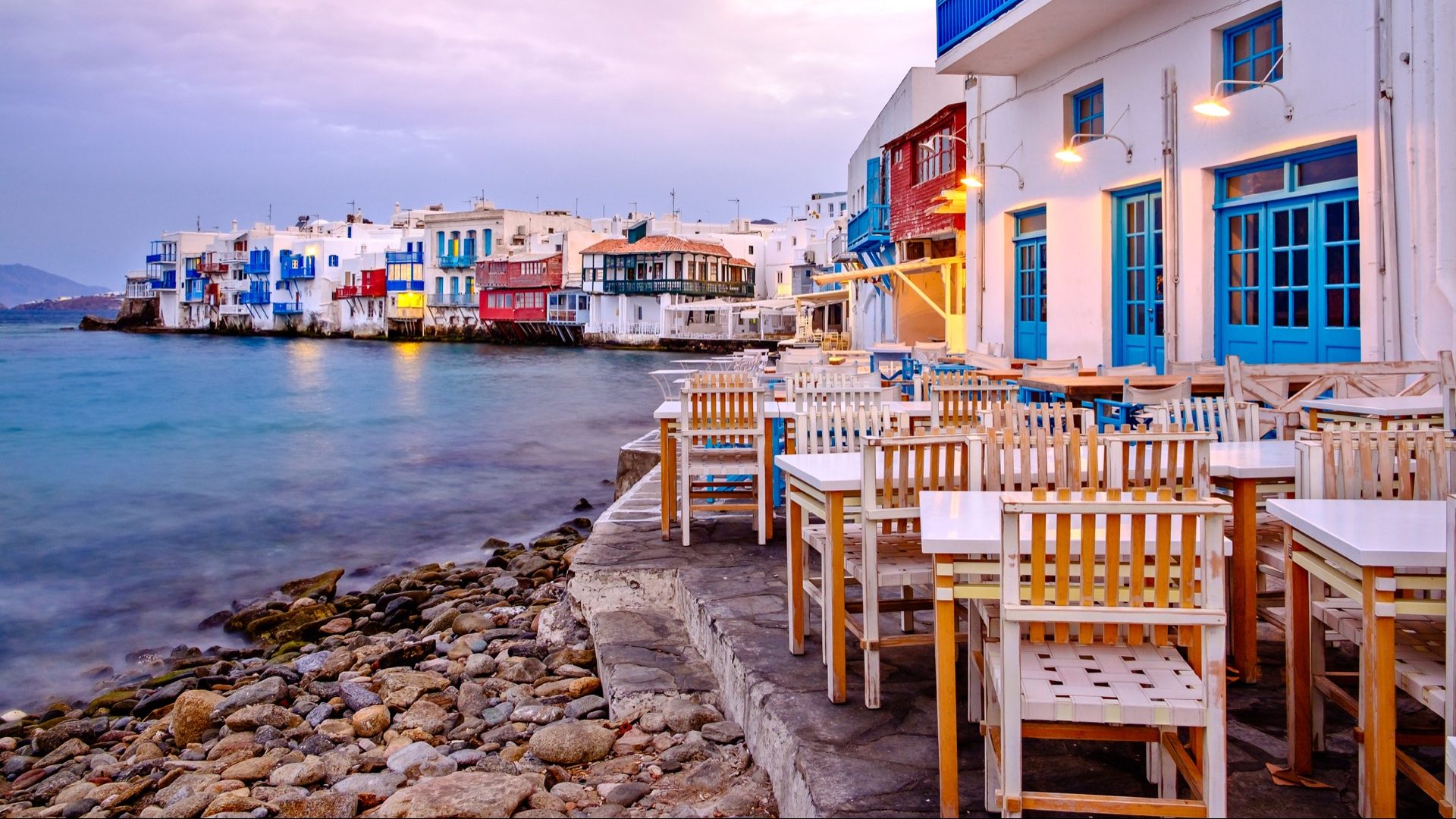 2. Panagia Paraportiani
In Mykonos, it is worth visiting religious and historical sites, one of which is the snow-white church of Panagia Paraportiani in Chora. The shrine is interesting because of its unique shape, caused by the peculiarities of construction: five small churches were built on this site on top of each other, thanks to which Panagia Paraportiani acquired an asymmetrical shape and pleases with an unusual combination of architectural styles.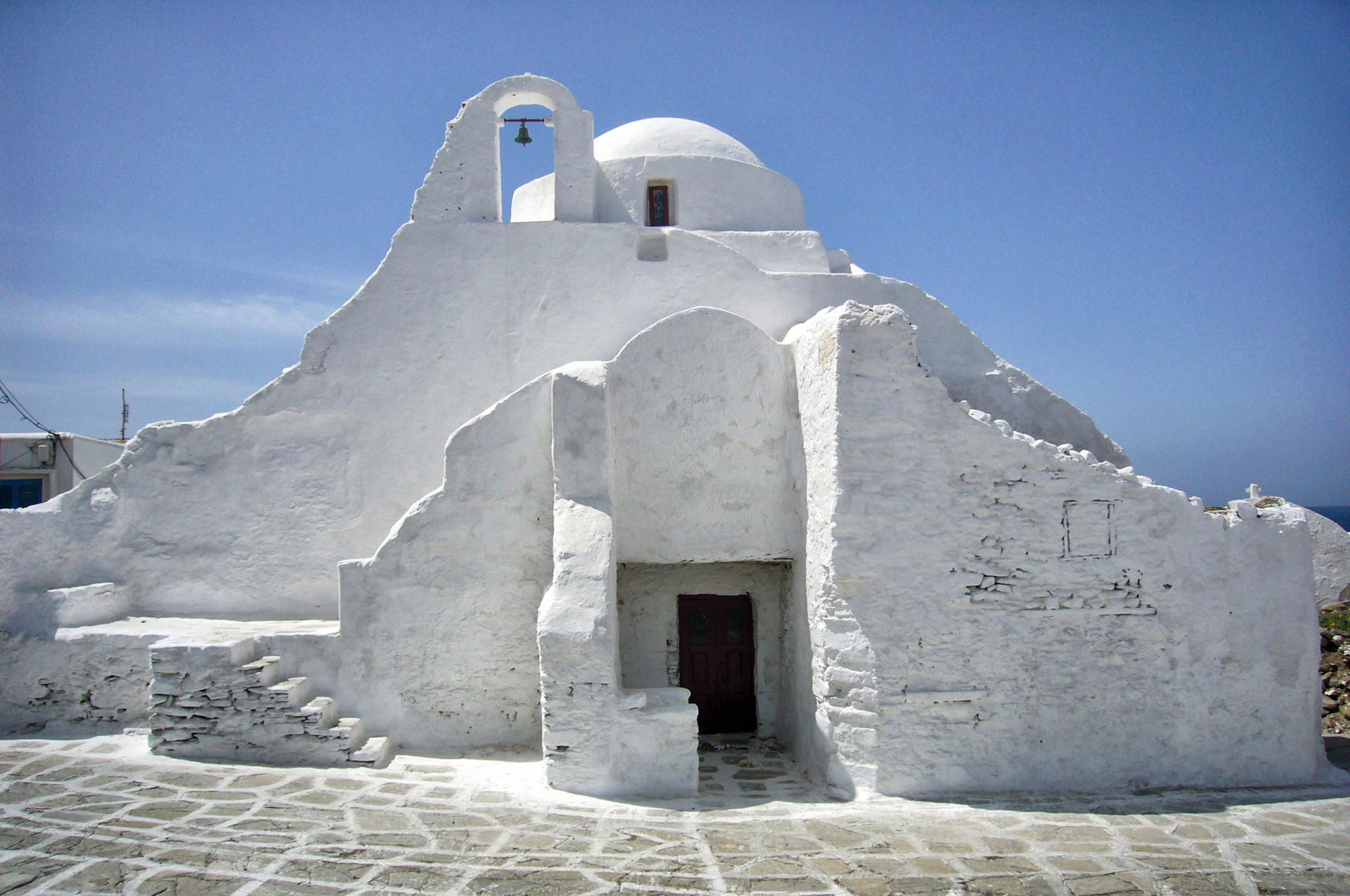 3. The Island Of Delos
Delos, the birthplace of Apollo and Artemis, the Greek legends. If you are interested in literature and architecture, this is one of the best places to see in Mykonos. You can reach Delos island by ferries which run from Mykonos. Explore the Sacred Harbor that is now a dry lake, the Terrace of the Lions, Cleopatra's House, and the House of Dionysius – a luxury private home built in the second century.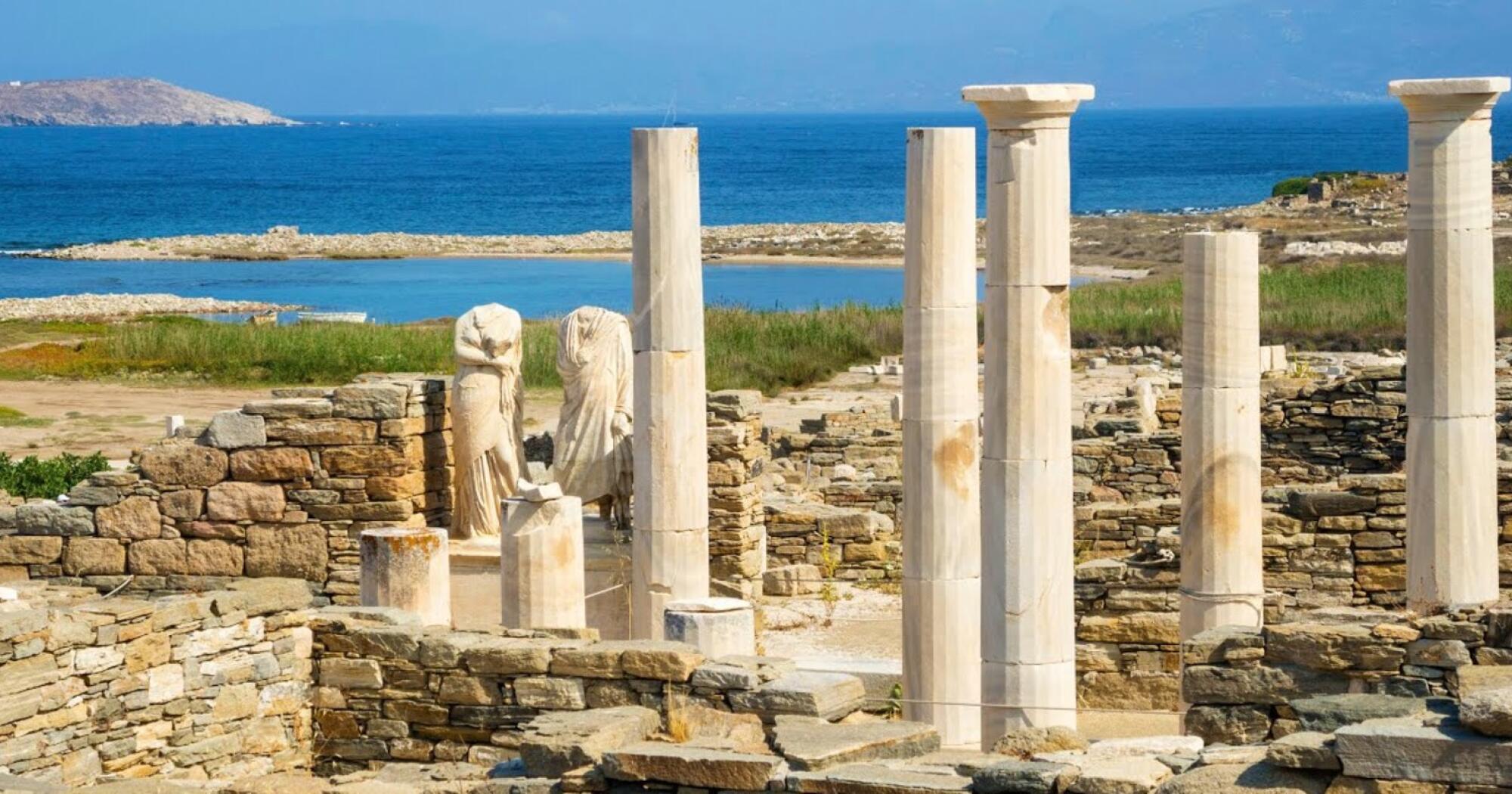 Learn more about tours in Mykonos: Tours to Mykonos
4. Platys Gialos Beach
Among the top 10 places to visit in Mykonos, Platys Gialos Beach is one place that you cannot afford to miss! Located at a short distance from the main town of Chora, lies Platys Gialos Beach which is a family-friendly beach. Surrounded by numerous hotels and restaurants, Platys Gialos is also a mini travel hub where taxi-boats depart regularly for the island's other famous beaches. You can satiate your taste buds at the Greek and Italian restaurants located near the beach as well that serve amazing food!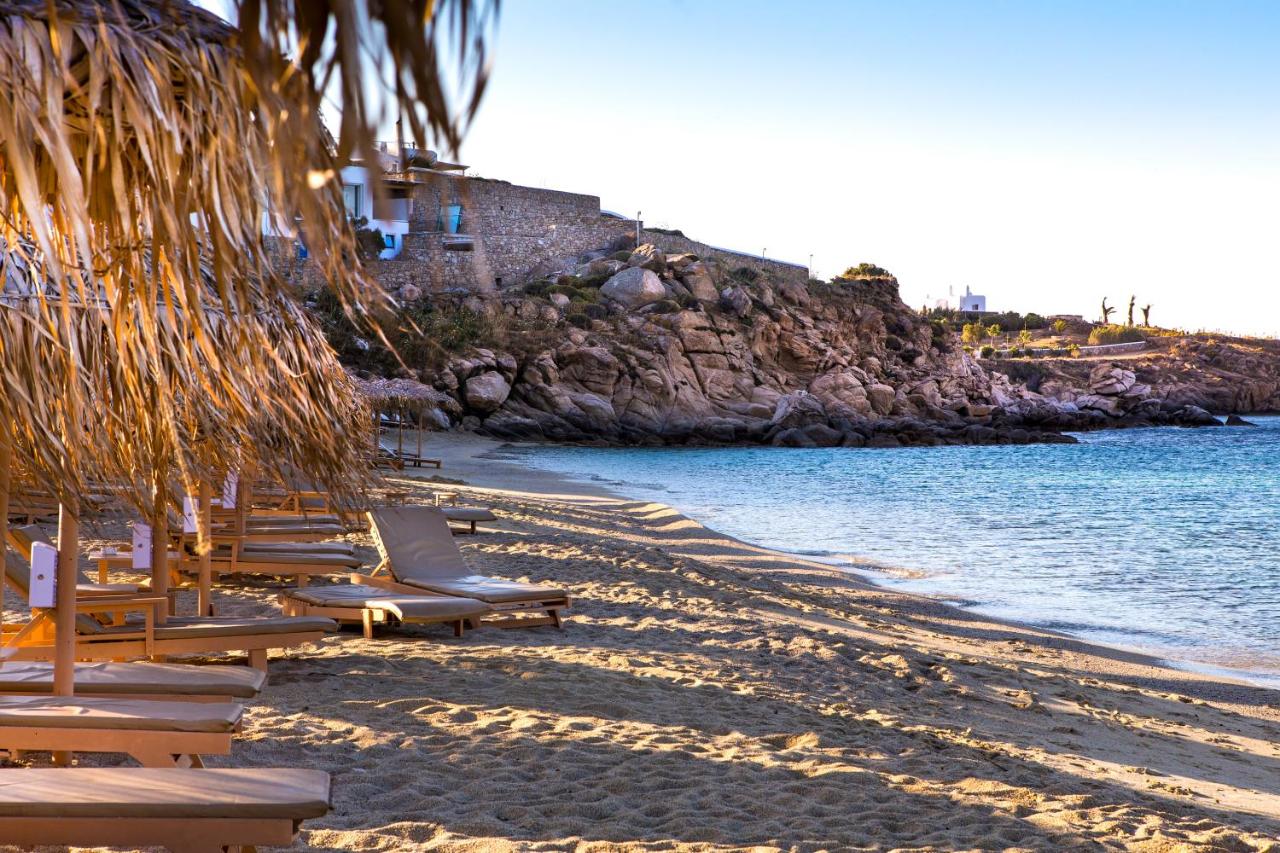 5. Ano Mera
Ano Mera is considered to be of the best places to visit in Mykonos. Around the 16th century, a monastery was built in the village of Ano Mera called the Panagia Tourliani. This restored monastery with its statuesque bell town and marble fountain is a favorite tourist spot. Inside the monastery there is a collection of Byzantine relics for viewing and for bringing back home the memories, one can buy several souvenirs from shops around. is considered to be of the best places to visit in Mykonos.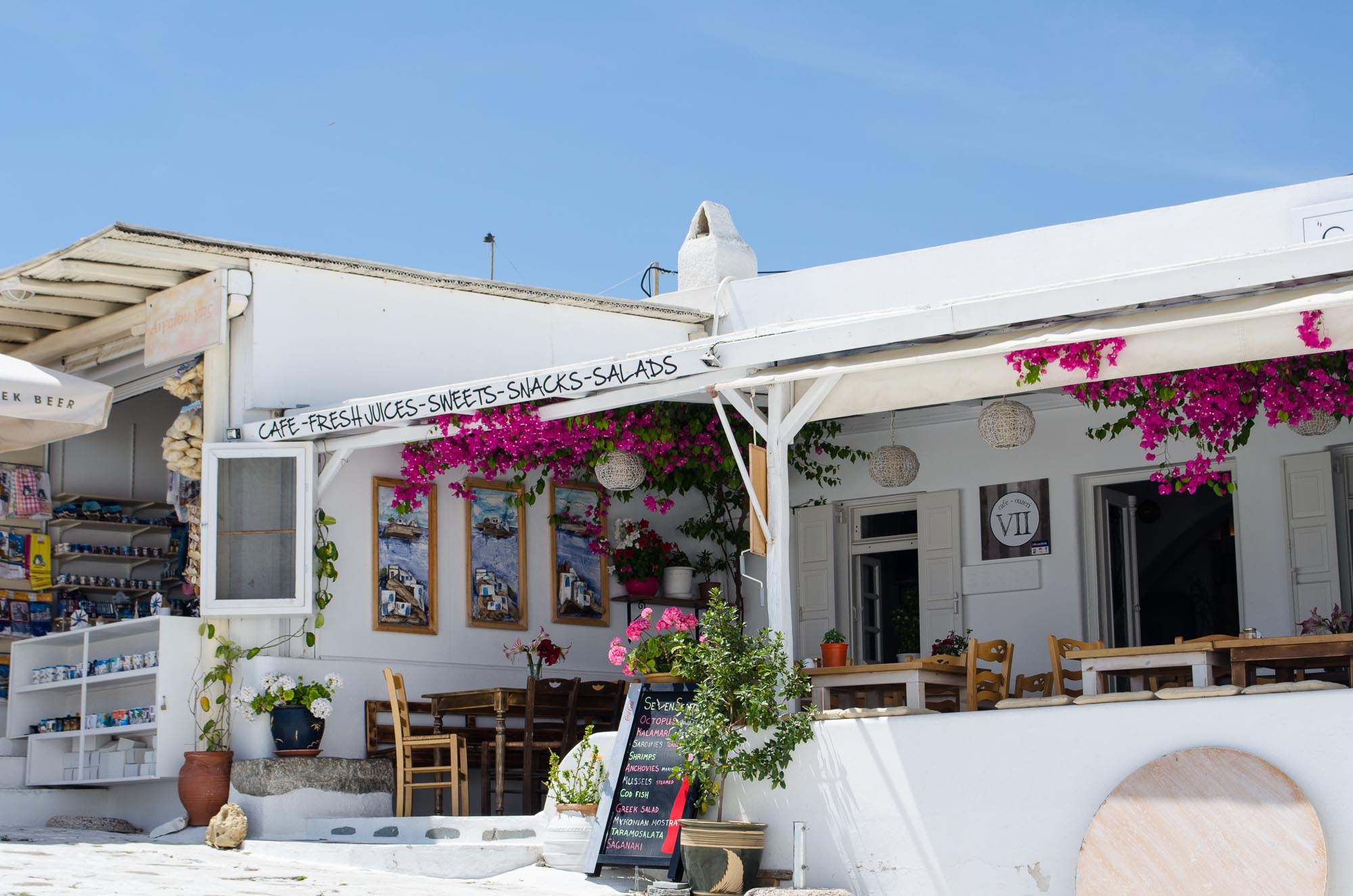 6. Elia Beach
Elia Beach, the longest and less crowded beach is one of the top places to visit in Mykonos. Accessible by bus service from Mykonos town and boat service from Platis Gialos, this beach is less crowded as compared to others. You can spend some quality time with your loved ones on this laid-back beach by resting under cabanas, wading in the clear blue ocean, or engaging in different water sports. There are also good restaurants, bars, and hotels dotted along the shore where you can enjoy mouthwatering dishes.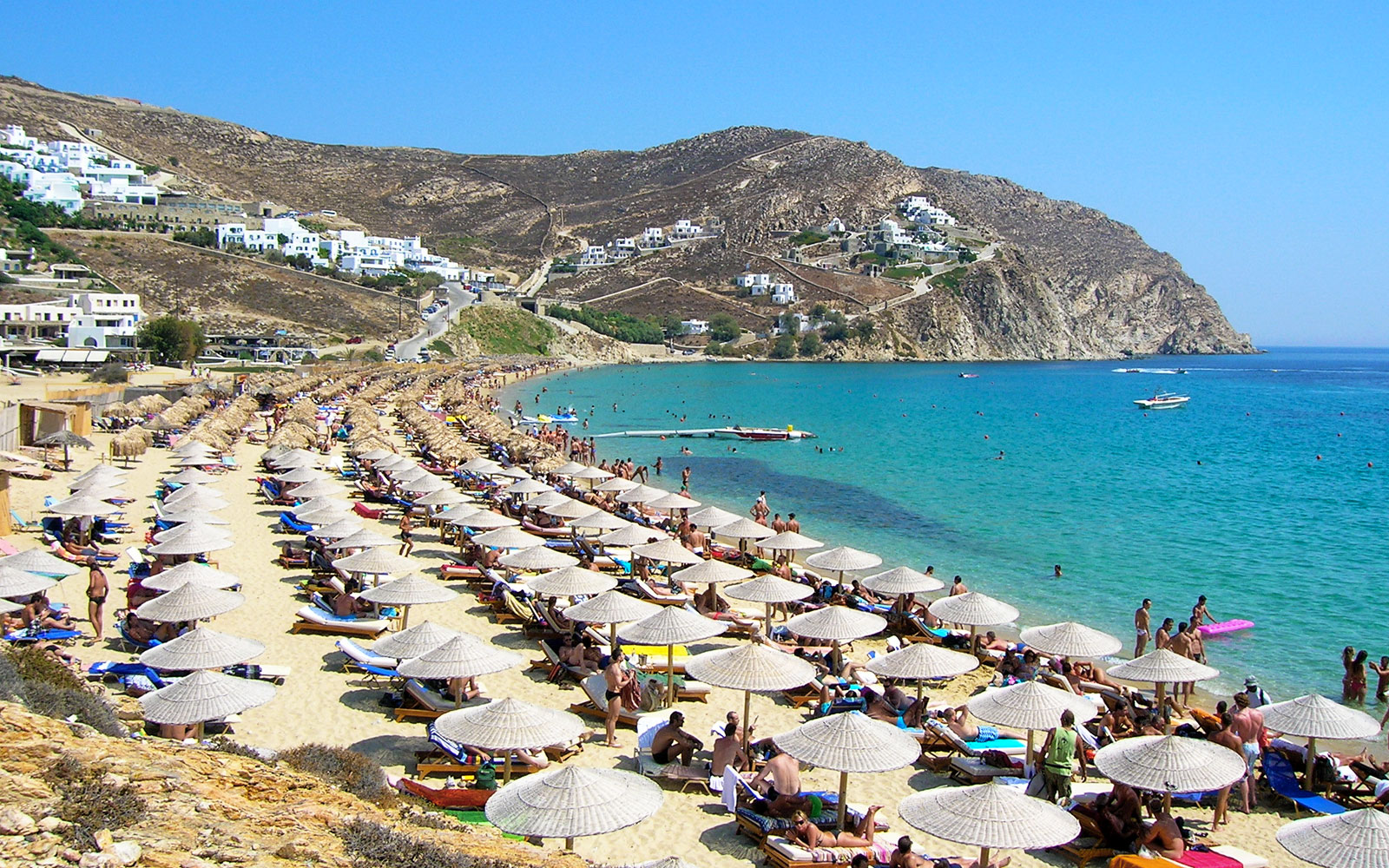 7. Kato Mili
An interesting feature of Mykonos's landscape is the windmills built in the 16th century by the Venetians. Today they have gained the status of "Mykonos attractions" thanks to the active attention of tourists. In total, there are 16 windmills on the island, 7 of which are located opposite the Chora. They are called Kato Mili.
8. Paradise Beach
A trip to Mykonos can't go without relaxing at the famous Paradise Beach, where the best parties on the island take place. The place is often frequented by popular DJs, you can both relax and have fun here.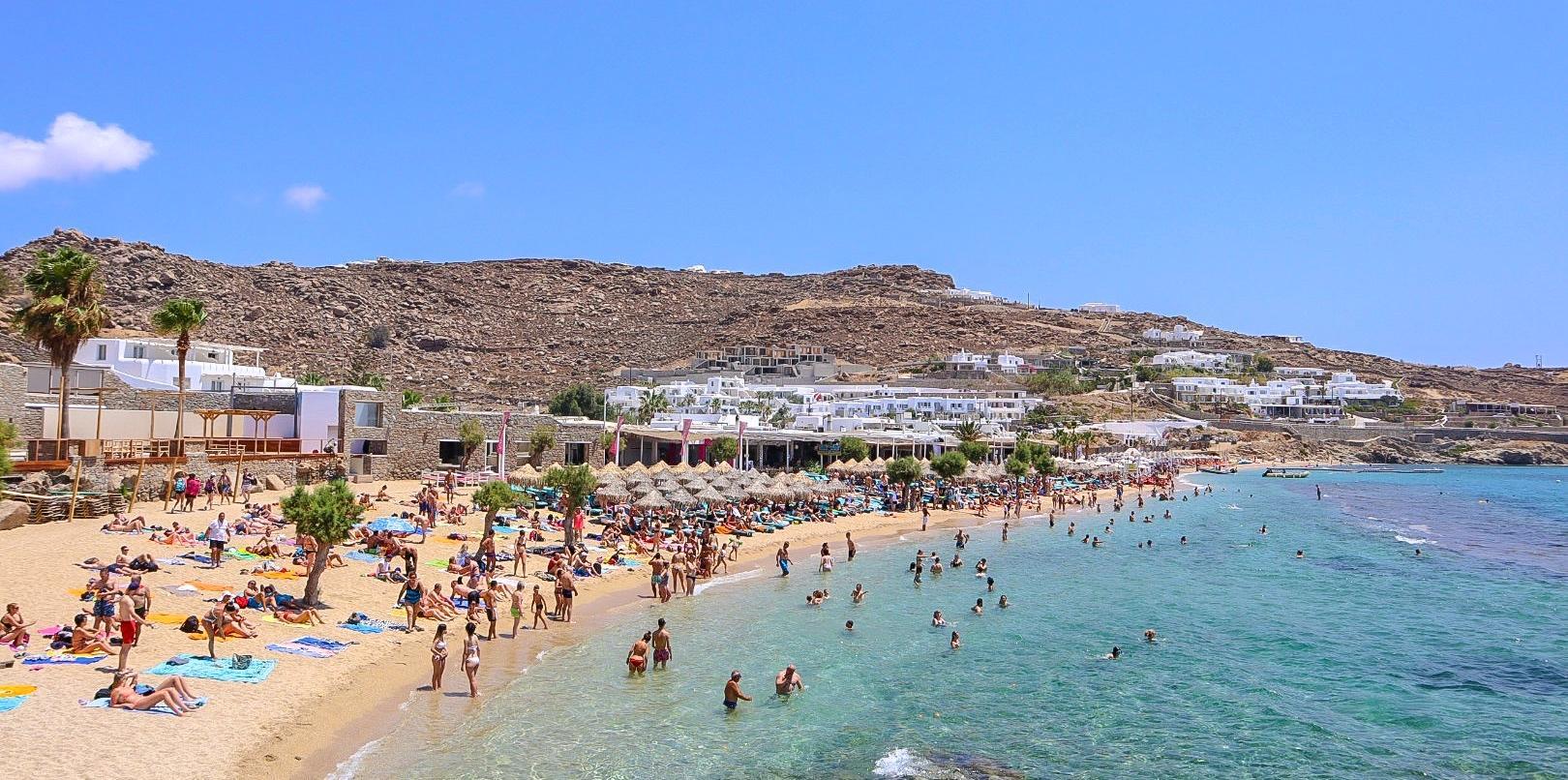 9. Rarity Gallery
Thinking to do something different and wandering on what to see in Mykonos other than beaches? Visit the famous Rarity Gallery that is acclaimed worldwide for its contemporary gallery drawing in visitors with exhibitions of works by established international and local artists alike. Photography and every other kind of visual art have found a space here wherein one can also attend one of the five solo exhibitions that are set up and are rotated out every year.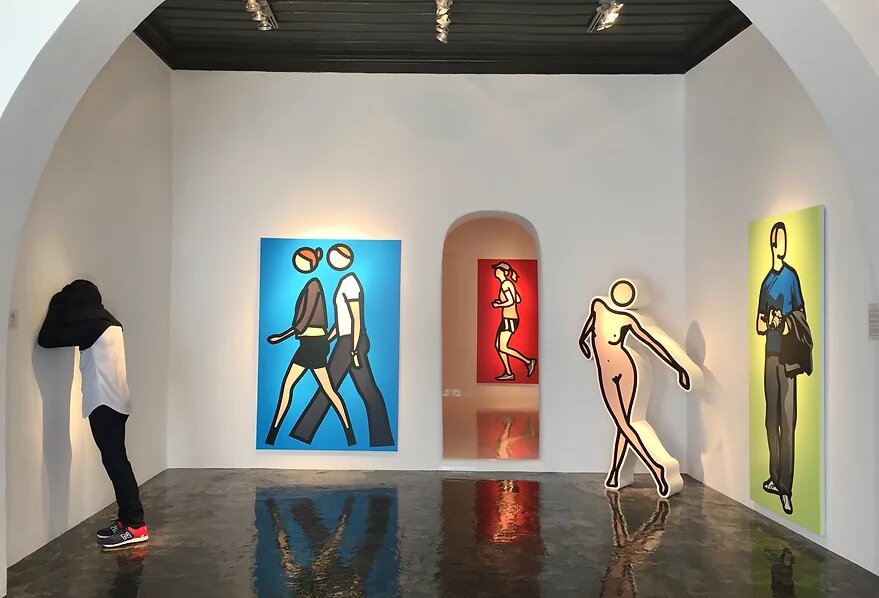 10. Matoyianni Street
No holiday is complete without shopping and the famous Matoyianni Street will make sure that your trip to Mykonos is way beyond complete. Be it the designer stores or boutiques, you can take your pick from a wide range of accessories, apparel, handmade jewelry, handcrafted sandals, and much more. All of these establishments stay open late into the night and it is undoubtedly one of the best places to visit in Mykonos.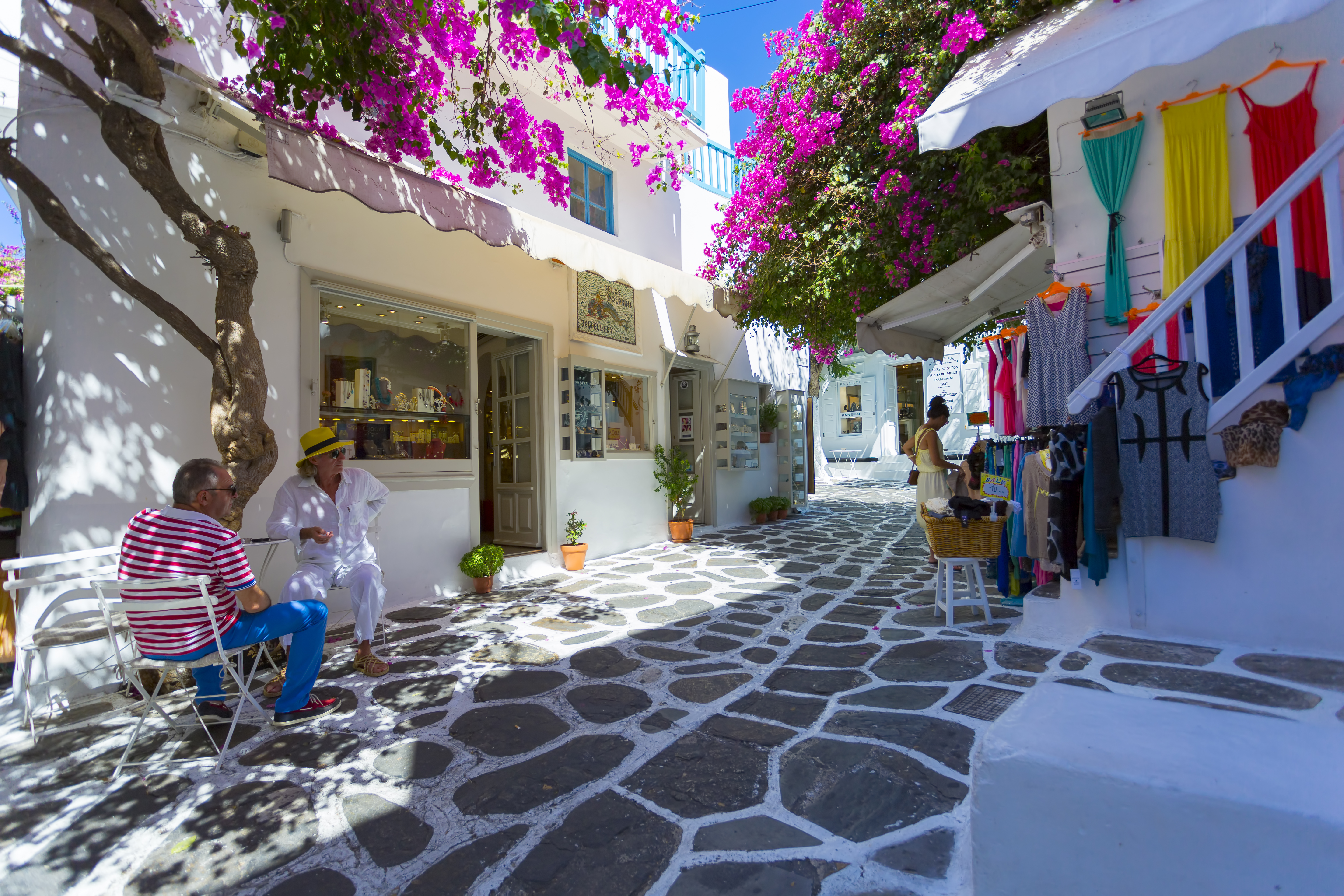 Plan your Greece holiday with Jintravel to make the most of these best places to visit in Mykonos on your next beach vacay!
Similar blogs